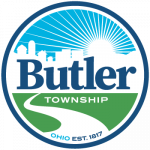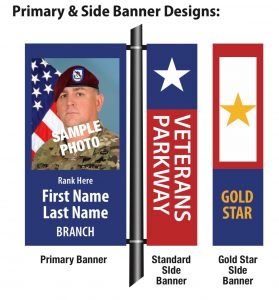 Vandalia-Butler Veterans Banner Program
The first round of banners for the Veteran Parkway Banner Program 2023-2024 has officially been filled. We want to thank the community for their overwhelming support of this program, and we are very excited to see the banners displayed next month!
We will continue to accept applications for the second round of banners, to be displayed in 2025-2026.
The Vandalia-Butler Veterans Banner Program, a community partnership between the Vandalia-Butler Chamber of Commerce, the City of Vandalia and Butler Township, provides residents of the Vandalia-Butler community an opportunity to recognize those who have served in the United States Armed Forces and pay tribute to our Veterans.
Commemorative banners may be purchased and will be displayed on the decorative light poles along Dixie Drive, which is designated as Veterans Parkway, from Elva Court (near Butler High School) south to Stop Eight Road. The banners will be installed each May, prior to Memorial Day weekend, and will remain displayed until after Veterans Day (November 11) each fall.
Contents: The double-sided banner will measure 60" tall by 30" wide and will feature the Veteran's rank, name, service branch, and a photograph of the Veteran. Special requests for the inclusion of additional information will not be honored. Additionally, requests for a specific banner location along Veterans Parkway will not be accepted. Any Veteran who died in the line of duty, will be recognized with a "Gold Star" banner alongside the Veteran's banner, at no additional cost.
Cost: The cost of each banner is $100.00
Duration: Once installed, banners will be displayed for a maximum of two years or until the banner begins to show deterioration, at the discretion of the City and/or Township. At the end of the display period, the applicant will be contacted to arrange for pick up of the banner. Any banners that remain unclaimed after 90 days will become property of the Chamber and may be disposed. If after two years, a replacement banner is desired, a new application and applicable fee will be required. Please note, new banner applications will be fulfilled prior to repeat banner applications, which may be placed on a waiting list, if necessary.
Eligibility and Requirements:
The Veteran to be honored and recognized on the banner must:
·         reside or have resided in the City of Vandalia or Butler Township; or
·         attended or graduated from Vandalia-Butler High School; or
·         be an immediate family member (e.g., spouse, parent, child, sibling, grandparent, grandchild, child-in-law) of a current City of Vandalia or Butler Township resident.
The Veteran must have served in any of the six branches of the military service (i.e., Army, Navy, Air Force, Marine Corps, Coast Guard or Space Force), including Reserves and National Guard, and must have been honorably discharged. A valid DD214 form or equivalent (i.e., prior to January 1, 1950) is required at the time of application.
Application Process:
Applications will be taken continuously by the Vandalia Butler Chamber of Commerce.
Applications may be downloaded to email to : info@vandaliabutlerchamber.org or print for mail-in.  Interactive Veteran Banner Application
Additionally, applicants may also visit the Vandalia-Butler Chamber of Commerce office at 544 West National Road, Vandalia OH 45377 in person. Please contact the Chamber office at 937-898-5351 to confirm business hours.
The Vandalia-Butler Chamber of Commerce, City of Vandalia and/or Butler Township reserves the right to screen applicants for eligibility and compliance with the objectives and procedures of the Vandalia-Butler Veterans Banner Program.